Zabuza Momochi is a villain from Naruto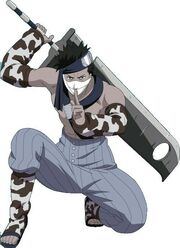 Zabuza was a missing-nin from Kirigakure's Seven Ninja Swordsmen of the Mist.
Why He Rocks
He has one of the coolest designs in the Naruto series.
He has a excellent relationship with Haku.
His final fight with Kakashi is very iconic.
His Japanese and English voice actors both do an excellent job at voicing him.
His final moments were very intense and epic.
He is very powerful even as a child, where he killed over 100 students during the Chunin Exams.
He was later reincarnated by Kabuto to fight in the Fourth Great Shinobi War, where he fought Kakashi once again.
He turned good after hearing Naruto's speech, joining forces with Team 7 to help fight Gato.
He is a playable character in many Naruto games, including the Clash of Ninja series, the Ultimate Ninja series, Path Of The Ninja 2 and the obscure GBA game Naruto: Konoha Senki.
He was still a powerful foe even with his arms chopped off.
His sword, Kubikiribocho is awesome.
Even after his death, his legacy still lives on.
Bad Qualities
He was killed very early into the show.
Trivia
His name means "do not cut the peach"
He was known as the Demon of The Hidden Mist