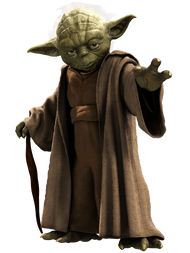 "Fear is the path to the dark side. Fear leads to anger. Anger leads to hate. Hate leads to suffering." ― Yoda in The Empire Strikes Back
Yoda is a major character in the Star Wars series. He is portrayed and voiced by Muppet performer Frank Oz.
Why He Rocks
He is a great Jedi teacher and mentor. He's also a great example of how shouldn't judge someone solely based on their appearance. Yoda for example is a strong and powerful Jedi knight even though he looks relatively harmless.
Muppet performer Frank Oz, who was well-liked for his work on the Muppets, did an incredible job working on Yoda's voice.
His most memorable quote: "Do. Or do not. There is no try."
He is about as optimistic as Jedi go.
His design looks cool and pretty realistic.
He is a funny character, especially in his debut, The Empire Strikes Back, in which he puts up a goofy facade to test Luke's patience, before reverting back to his wise, stoic self.
He has enough unique traits to avoid making him a cheap version of Obi-Wan.
He has an funny accent and speech pattern.
Bad Qualities
His puppet look in the original release of The Phantom Menace looks weird and ridiculous (this changed in the 2011 Blu-ray, in which he was replaced with a CGI version).
Trivia
His name means "warrior" in Sanskrit.