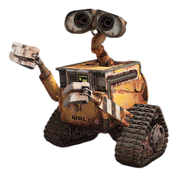 WALL-E (Waste Allocation Load-Lifter Earth-class) is the main protagonist of the 2008 movie of the same name. He is a waste-collector drone created by Buy 'n' Large, whose job was to haul the garbage plaguing Earth in the distant future. Unexpectedly, his time of loneliness and endless work enabled him to get a conscience of his own, and a hope for something else in his life to come. One day, however, his world goes upside down when he meets another robot from outer space named EVE.
Why He Rocks
He is friendly, curious, and lovable.
He has a brave side, such as when he tries his best to prevent the holo-detector from closing down.
He has become one of the most popular movie robots ever created.
His relationship with EVE is adorable.
His enjoyment for "Hello, Dolly!" is really relatable to those who love musicals.
For 700 years he had to take care of the trash on Earth, and eventually became the last WALL-E on Earth, but he still manages to keep his cool and friendliness. Who says robots can't have emotions?
His voice is supplied perfectly by Ben Burtt.
Community content is available under
CC-BY-SA
unless otherwise noted.