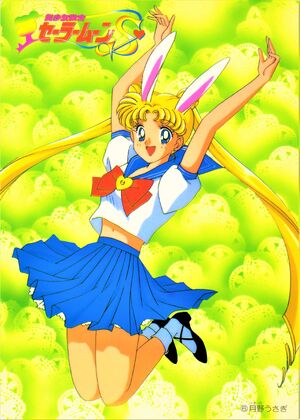 Usagi Tsukino is the present-day form of Princess Serenity. A carefree sailor-suited schoolgirl, she is the civilian persona of Sailor Moon, leader of the series' primary heroines, the Sailor Senshi. 
Why She Rocks
She is slapstick comedy's very first sailor-suited schoolgirl, so she will make the audience laugh harder.
She is a lazy, clumsy and goofy academic underachiever.
This cute sailor-suited teenage tomboy was a local class clown.
For the slapstick comedy, she wears her most iconic sailor-suited everyday outfit, to increase her cuteness and tomboyishness.

Including a blue sailor collar with two white stripes. She has a red ribbon on the front of her uniform, which she ties her magical locket to. She has a white top with blue sleeves which have white stripes on, like the collar. In the summer, she wears a white top with short puffy sleeves. She has a blue pleated skirt with a blue ribbon on the back. She usually wears white socks and a pair of black cross-strap Mary Jane shoes.

She has her highest levels of clumsiness, wackiness and silliness, which are so cute and adorable.
Her reincarnation form, was one of the zaniest cartoon characters ever created.
She is filled with slapstick silliness.
She loves more boyish hobbies, such as playing video games.
She loves hanging out with her friends, especially the funniest sailor-suited teenage tomboy, Minako Aino.
Trivia
She really hates carrots.
She is scared of dentists and lightning storms.