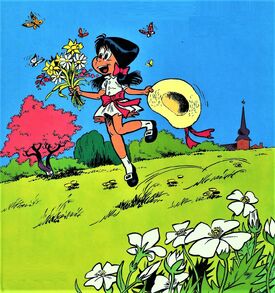 Sophie Karamazout is Jidehem's most iconic character. She is a cute and brave young city girl, who was created in the laboratory by Mr. Karamazout, with the mixture of sugar, spice and everything nice.
Sophie was based on Jidéhem's own daughter. Sophie is a young girl who lives with her father who is an inventor and goes through all kinds of adventures.
Why She Rocks
She is the most feminine character in the history of Franco-Belgian comics.
She was born, as an "artificial human".
She usually speaks with her thick British accent.
She wears every lovely girly dress, including white bloomers, white socks and a pair of very shiny black shoes.

To make herself a lot more girly, she usually wears her most iconic outfit, a beautiful summer dress, which she wears a straw hat with a ribbon, a little white dress with puffed sleeves and a ribbion, white bloomers, white tight stockings and black shoes.

She really hates injustice.
She was the very first main female protagonist of the Franco-Belgian comics.
As

a teenager

, she became a very happy tomboy, removing her girliness.