Sir Topham Hatt AKA: The Fat Controller In The United Kingdom dub, a main character from Thomas & Friends. He is the controller of the North Western Railway.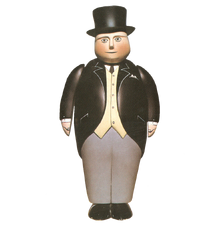 Why He Rocks
Despite being cross with most of his engines, he is shown at times to be caring to his engines.
He is also intelligent and fun-loving at times too.
He knows how to keep his engines in order most of the times.
He also created a ton of memes.
He also have memorable lines, such as "You have caused confusion and delay!", he also has other great and memorable lines, such as "I can find another hat, but I can not find another Thomas." from the infamous Misty Island Rescue Movie and "My engines are much more than any treasure. from "Sodor's Legend Of The Lost Treasure".
Bad Qualities
He is quite quick to anger, as shown in "Sodor's Legend Of The Lost Treasure", he scolds Thomas for the 3 times in that movie, even when thomas said he wasn't trying to kill ryan