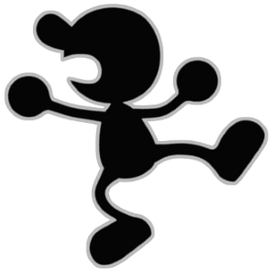 Mr. Game & Watch is a character that represents Nintendo's early Game & Watch handhelds. He appears throughout the Super Smash Bros. and Game & Watch Gallery series. He is just as simplistic as the LCD games that inspired him; he has no dialogue, simplistic animation, and very little personality.
Why He Rocks
He represents Nintendo's early history in a creative way; all of his moves are inspired by Game & Watch games.
He pulls random items out of nowhere, which is a unique and sometimes entertaining way to fight.
He has a two-dimensional look that sets him apart from other Smash Bros. characters.
His animations are very accurate to the original LCD handhelds.
The character made some people more interested in Nintendo's earliest works.
Bad Quality
As of yet, he does not have a clear personality.