Note: Not to be confused with Miles "Tails" Prower from Sonic the Hedgehog.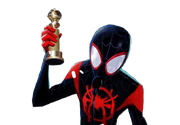 Miles Morales is a fictional comic book superhero appearing in publications by Marvel Comics and one of the characters known as Spider-Man. He first appeared in Ultimate Fallout #4 as an Afro-Latino teenager that becomes the new Spider-Man after the death of Peter Parker. He also appears as a side character in the Ultimate Spider-Man animated TV series and the main character of the feature film Spider-Man: Into the Spider-Verse.
Why He Rocks
The first time when he started to get his powers from the spider that bit him, he was unhappy at first. After witnessing the death of Peter Parker, he realized that he could have help. Later on, Miles becomes inspired to try his hand at costumed crimefighting in order to become New York's next superhero. He even accepted the dying Peter Parker's promise to destroy the Collider.
When Miles witnesses the death of Aaron Davis, it starts to become sad but realistic. This is really prominent in Spider-Verse when Kingpin shot Aaron which made Miles really upset. Even when that may happen, you do realize that we lost some people.
What makes Miles Morales relatable is because he may appear as a bright person, yet he been thrust into a new school (Visions Academy to be exact) and has a hard time adjusting to this new environment. It's getting worse when he tries to adjust to his entirely new and unexpected life as a new Spider-Man. When you think about it, viewers will understand changes happen.
He does have some moments that are pretty hilarious like when he accidentally gets his fingers stuck to Gwen's hair or his running gag that he forgets to tie his shoes. Another thing about this is of course his meme-worthy moments that spawned some memes like the hey scene or Miles thinking.
What's interesting is that Miles at first starts to have trouble with his powers like turning invisible or bio-electric powers which teaches views that it's not always easy to be a hero right away which is understandable because there are some abilities that we do possess yet we can't actually master them until practice. Similar enough, Miles was able to get back up again to fight back and beat Kingpin. In other words, he had to learn about "leap of faith".
Miles' relationship with his father Jefferson Davis is really moving in the film. You see, Miles would struggle to live up to the expectations of his father, but in the end, Miles (as Spider-Man) speaks with his dad who claims that while he does not approve of his actions, he'll set them aside.
In the Ultimate comics, Miles is more shy and introverted. In Spider-Verse however, Miles is more social.
What makes Miles such as character is that he would dip some Spanish in some of his dialogue such as "Alright, cool! Spider-Man, a su servicio!"
Usually, Miles is a very sweet individual who enjoys making friends. However, he's no stranger to facing combat as you may have guessed.
Miles may have been taught by Peter B. Parker, but he was able to surpass Peter B. by pulling off the amazing swinging maneuver that the Peter in Miles' universe did in the first act. Even Gwen remakes that neither had taught him that maneuver. So basically, Miles learns that he shouldn't be trying to copy Peter, but instead use his own ideals and deeds as a launch point.
Bad Qualities
He did have some distance with his father as mentioned before.
When he first got his power, he does have problems with it as first as the movie first introduces Miles with the powers.
Like the other members of the Spider-Gang, Miles can be very stubborn.
At one point, Miles tries to get himself kicked out at Brooklyn Visions Academy just by intentionally fail a science test.
Comments