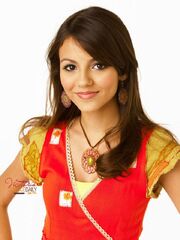 Lola Martinez is one of the main characters in the Nickelodeon TV series Zoey 101. Lola is the best friend and roommate of Zoey Brooks, Nicole Bristow and Quinn Pensky. Her other best friends are Chase Matthews, Logan Reese, and Michael Barret. Lola is a great actress and aspires to one day be a famous actress. She appeared in Seasons 2-4.
Why She Rocks
Her acting skills are very unique and she also a great disguiser in some episodes. For example, in the Season 2 episode of Zoey 101 "Girls Will Be Boys", Zoey, Nicole, and Michael disguised Lola as a boy in order to stay in the boy's dorm and find out what's going on.
She has pretty good outfits that she wears.
Her hair colors in Season 2 were very beautiful.
She is another memorable character in the series.
Like Zoey and Ed she is good-natured, passionate, and a driven individual.
The actress "Victoria Justice" is a very good portrayal in the series as the main role.
Her relationship with Vince Blake is decent or good in Season 4.
She is Hispanic, just like Dana.
Her goth outfit at the beginning of the episode of Season 2 "Back to P.C.A.", is very nice.
Bad Qualities
Though despite being independent, unique, attractive, and fashionable; she is the only Zoey 101 character who got slightly flanderized since Season 3. Though, she kept most of her charm.
She can be unlikable sometimes, as seen in Anger Management and The Radio.
She also often shows hostility toward Zoey's little brother "Dustin" as seen in Favor chain when Zoey told her she wanted her to be Dustin's talent show assistant, Lola said she didn't want to, and added Eww.