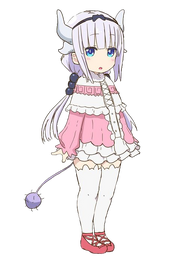 Kanna Kamui (Japanese: カンナ カムイ Kanna Kamui) is a recurring character who is Tohru's best friend in Miss Kobayashi's Dragon Maid.
Why She Rocks
Like Tohru before her, she has a really adorable design; especially in her human form.

The way she talks is also very adorable by an extent; especially when talking to Tohru and Kobayashi.

Kanna is shows a lot of honesty.
She does her best to protect Tohru, and Kobayashi by an extent.
Kanna is known to be generous as well; Kanna and Tohru let each other share rooms.
Unlike Tohru, she hides her horns; especially when going to school (Similar to Elma when she goes to work).