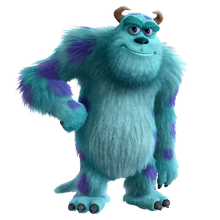 James P. "Sulley" Sullivan (or "Sulley" for short) is the main protagonist of Disney/Pixar's Monsters, Inc., and the deuteragonist of its 2013 prequel Monsters University.
Why He Rocks
Unlike other monster's in monster world, James' is seems capable to be brave and tuff to scare people in sleeps, However he met a cute little human kid and starting to be loveable and caring.
After Boo was stayed with the monsters, He was acting more like a father figure and taking caring her until they send her home which is heartwarming.
He and his pal Mike Wazowski getting along each other pretty well and more like teammates during Monsters University (climax only), Monsters, Inc., and Monsters at Work.
Although he may look like a scary monster to everybody, he has a well meaning life.
He's gotten some good character development in the films:

In University, he grows from a heartless jerk into having a heart of gold and becoming nicer and friendly to his friends and treating Mike with respect, and revealing he acts scary because he's the one who's terrified and that he didn't have any real friends before meeting Mike and the OKs, which was sad and relatable.
Also, in the first movie, Sulley learns that scaring kids isn't very nice after scaring Boo by accident, and is considered emotional, which is what inspired him to come up with a new power source, and thanks to Boo, it was making kids laugh, which was much more nicer than scaring them.

He still remains likable in the TV show, Monsters at Work.
John Goodman did an excellent job voicing him.
The Only Bad Quality
In Monsters University, he was a jerk when he was younger until he revealed that he "acts scary but terrified".
Trivia
Sulley appears in the end credits of Cars as a giant monster truck. He is also seen in Tokyo Mater with a car version of Mike.
Sulley was originally going to be a janitor and not a Scarer in one early version. This is referenced in Monsters University in a montage of Mike and Sulley's jobs climbing the ranks to become scarers, one of the jobs being a janitor.