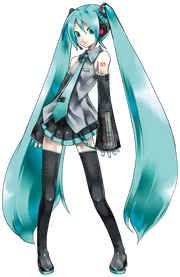 Hatsune Miku (Japanese: 初音ミク), sometimes referred to as Miku Hatsune, is a character from the Vocaloid franchise.
Why She Rocks
Has one of the greatest songs like "World is Mine".
She was the first Vocaloid 2 produced.
Her defining songs propelled her popularity.
She is very popular in both Japan and America.
She is always charismatic and puts the way she is animated, from 2D to 3D to good use, from the way she dances to the way she talks.