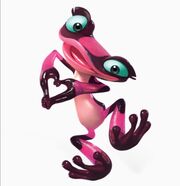 Gabi is an antagonist of the Rio franchise. She's voiced by Kristen Chenoweth.
Why she rocks
She' delightfully crazy and obsessed with her love interest Nigel
Her "love" relationship with Nigel is hilarious
She's cute and funny
Her design is cool
Kristen Chenoweth is great at playing her
The scene where she drags away with the intention of showering him with love against his will is hilarious
Bad Qualities
She's really clingy towards Nigel once they get "married"