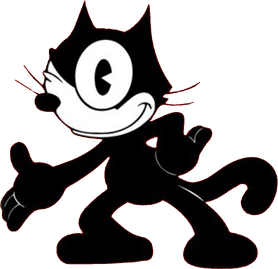 Felix the Cat is a funny-animal cartoon character created in the silent film era. The anthropomorphic black cat with his black body, white eyes, and giant grin, coupled with the surrealism of the situations in which his cartoons place him, combine to make Felix one of the most recognized cartoon characters in film history. Felix was the first character from animation to attain a level of popularity sufficient to draw movie audiences.
Why He Rocks
Since he first appeared in 1919's Feline Follies, he was animation's very first major superstar.
He was America's luckiest black cat. However in The Twisted Tales of Felix the Cat episode, Bet-A-Billion Bill, Felix passes Bill, receiving him very BAD luck.
For his first 11 years, he was the only cartoon character to star in several silent cartoons. In 1936, he starred in Burt Gillett's very own trilogy of Felix the Cat cartoons, but this time in color.
As his popularity increased, he received comic books, video games, television programs, clothing, comic strips, toys and a variety of merchandise.
Due to his popularity, he became the birthplace of the world's most groundbreaking future cartoon stars:
Community content is available under
CC-BY-SA
unless otherwise noted.