(450th Page on this Wikia!)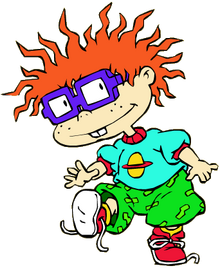 Charles "Chuckie" Crandall Watanabe Finster is a fictional character from the Nickelodeon animated television series' Rugratsand All Grown Up!. He is Tommy Pickles's best friend, the son of Chaz and the late Melinda Finster, stepson of Kira Watanabe Finster, stepbrother of Kimi Finster, and the major tritagonist (originally, deuteragonist before the introduction of Dil Pickles). He was first voiced by Christine Cavanaugh, then Nancy Cartwright in Seasons 8 and 9. In Rugrats in Paris, he is the main protagonist.
Why He Rocks
He is very loyal to his peers.
While timid, he remains a cute and kind boy.
He can be brave sometimes.
He is very smart for his age.
Though he is scared of many things, he tries really hard to be brave.
Incredible voice acting by the late Christine Cavanaugh.
Bad Qualities
He is very quick to panic.
His step-sister Kimi.
Community content is available under
CC-BY-SA
unless otherwise noted.