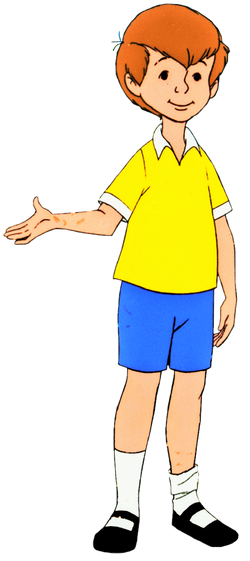 Christopher Robin is one of Winnie the Pooh's best friends (the other one being Piglet) and owner in the Pooh series and a good friend to all of the creatures within the Hundred Acre Woods. He is named after Christopher Robin Milne, the son of Pooh creator A.A. Milne. Christopher Robin is a sweet, imaginative and adventurous little boy who is also a very loyal friend. He was a key part of the classic Pooh storybooks and also featured in many stories and films of the Pooh television series and movies.
Why He's the Sweetest Little Boy
He's the cutest male Disney character.
He's the ruler of his magical, imaginary world, called Hundred Acre Wood.
His very cute character design.
To fit his cuteness and sweetness, he wearing his most iconic boy-oriented outfit, to make himself "the sweetest little boy", including a yellow polo shirt with white collar and trims on his short sleeves, blue shorts, white socks and his pair of very shiny black Mary Jane shoes.
He adorably speaks with his very thick British accent.
He had his many toys, including his magical blue balloon.
He had his stuffed animals, especially Winnie the Pooh.
He dramatically fits for Disney's preschool media. On top of that, he's the Disney Preschool icon.
The ONLY Bad Quality
His The New Adventures of Winnie the Pooh counterpart wasn't well-done.