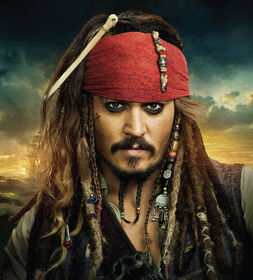 Captain Jack Sparrow is the main protagonist of the Pirates of the Caribbean movie franchise. He's a pirate and a sea gangster who's potrayed by Johnny Depp.
Why He Rocks
He's not only Disney's most memorable pirate character, but he's one of the most unforgettable and highly-praised pirate characters in general.
He's one of Johnny Depp's best known performances, along with the Mad Hatter, Willy Wonka, Edward Scissorhands and Sweeney Todd.
In fact, he might be Johnny Depp's most adored of the characters he played.
He's got a witty nature and a many tricks up his sleeve that makes him perfect as a pirate.
He's a good swordsman, which makes him great at fighting and battling his enemies.
Sometimes his oddball attitude and strange personality can help him and his fellow pirates out of the conflicts.
His design and his movements are very well-done, which goes great with his behavior.
He's also got many hilarious and unforgettable lines of dialogue like the one in the caption above.
He's literally always stealing the show throughout the film franchise whenever he appears on screen.
Bad Qualities
He's very out-of-character, and not very charming during Dead Men Tell No Tales.
Videos
Community content is available under
CC-BY-SA
unless otherwise noted.