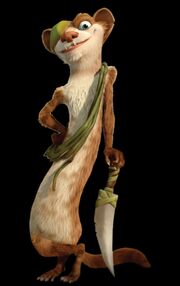 Buck is a weasel with an eye patch that is one of the main characters of the Ice Age franchise, who lives in the dinosaur world below the Ice Age world and helps Manny and his herd help find Sid the Sloth, he is voiced by Simon Pegg.
Why He Rocks
Simon Pegg put a ton of effort into voicing him.
He has one of the best character introductions out of all the characters from the Ice Age franchise and has a great backstory about his relationship with Rudy and how he lost one of his eyes.
His strange personality is so funny and charming.
Everything he says is so funny and quotable.
He is also very adventurous as well.
Despite his craziness, he's still pretty intelligent and crafty.
He is one of the reasons why so many people loved Ice Age: Dawn of the Dinosaurs and why that film became a favorite among fans of the Ice Age films.
Pop Goes the Weasel!
Unlike the other characters from the Ice Age films, he thankfully wasn't Flanderized on the fifth film and still retained his old character.
He is also one of the reasons for which people went to see Ice Age: Collision Course and considered by most like the only good thing of the film.
He is the first Blue Sky Studios character to be recieving his very own spin-off movie, Ice Age: Adventures of Buck Wild, exclusive to Disney+.
The Only Bad Quality
He can be a little strange at times, especially during the fifth film.