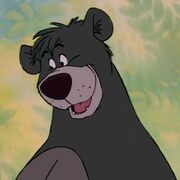 Baloo is the deuteragonist of Disney's 1967 animated feature film The Jungle Book. He is a fun-loving, easygoing, and good-natured sloth bear who becomes the best friend of a "man-cub" named Mowgli. He is voiced by Phil Harris.
Why He Rocks
He is very friendly and optimistic.
He helps teach Mowgli about having fun during "The Bare Necessities".
He receives a lot of character development in the spinoff; TaleSpin, where he becomes a very skilled pilot.
His design is great, even for a cartoon bear.
He cares a lot about others, especially Mowgli, like when he saves Mowgli from King Louie and Shere Khan.
His song "The Bare Necessities" is very catchy and well written.
Phil Harris does a great job voicing him.
Bad Qualities
Due to his design, it's hard to tell that he's either a Sloth Bear or a Brown Bear.
He can be a little stubborn at times, especially in TaleSpin.
He was a bit flawed outside of the original movie and TaleSpin
Comments